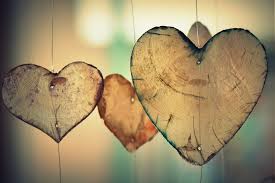 These days I feel like I'm thriving. What I mean by this is I think those many years of discipline and growth that I've been through are beginning to pay off. This doesn't mean I'm perfect (by any means), but what it does mean is I finally understand the great importance of love. It is love that causes those glorious buds of fruit to shift into full bloom.
As a writer and a Bible teacher, one of my areas of interest is testimony—I've written a whole series on the subject of Christian testimony. You see, I've got an evangelistic spirit and so the subject of "faith in Jesus" is central to me. However, for the longest time I imagined the fruit of "faith" to be the greatest fruit of all. Because of my gift for evangelism, I had mistakenly set faith high upon a pedestal. I imagined that faith was the most essential aspect of Christianity. I ignored, for the longest time, the verse that read, "And now faith, hope, and love abide, these three; and the greatest of these is love" (1 Cor. 13:13). Because of my ignorance, I thought faith would secure me to Christ. I believed; therefore, I was a serious and confident disciple of Jesus.
But shockingly, the root that is needed to keep us grounded in Christ is love; it is not faith. A faith that is not rooted in love will grow weak. It will shrivel up, and eventually it will break down and waft away in the wind. After all, the apostles didn't just believe in Christ—they fell in love with him. And it was precisely because of their deep love (not just their belief) that they were able to follow Jesus through difficult times.
So as I enter into my time of blooming and thriving, I've come to understand that the question I should ask myself as a believer who wants to testify about Jesus is not only the simple question of, What do I believe about Jesus? Instead, I find it necessary to ask the deeper question, the one I may be terrified to ask myself: Do I love Jesus? Do I truly love him? … Do I love him?
When they had finished breakfast, Jesus said to Simon Peter, "Simon son of John, do you love me more than these?" He said to him, "Yes, Lord; you know that I love you." Jesus said to him, "Feed my lambs." A second time he said to him, "Simon son of John, do you love me?" He said to him, "Yes, Lord; you know that I love you." Jesus said to him, "Tend my sheep." He said to him the third time, "Simon son of John, do you love me?" Peter felt hurt because he said to him the third time, "Do you love me?" And he said to him, "Lord, you know everything; you know that I love you." Jesus said to him, "Feed my sheep." —John 21:15-17 (NRSV)
I've discovered that falling in love with Jesus doesn't happen overnight; it doesn't happen just because we went to Bible college. And attending church won't guarantee a swooning heart. Like Peter found out, falling in love is a journey. It's a risky excursion filled with glorious walking-on-water moments and heart wrenching "I tell you I don't know him!" betrayals. It's filled with red-hot evangelistic passion and bouts of complete uncertainty; there will be moments of exhilarating mystical revelations followed by mind-numbing days of patient waiting. There will be disappointments, surprises, attitude adjustments, supernatural teachings, and difficult truths. But if you dare walk this journey, one thing is for sure … eventually, Jesus will turn to you and he will whisper, "Do you love me?"
And you will look into his eyes and the words "Yes, Lord; you know I do" will flow across your lips. It will be natural; it will be heartfelt—and it will be the truth.
This is exactly the kind of deep love that will secure you, embed you, plant you firmly in faith. By this point you are now a massive tree with roots so deep that not even the strongest typhoon could tear you loose from Jesus. And the fruit you produce? Well, all that fruit could feed the whole world.