What is Eve's purpose? Why was she created? Is Eve, as some say, an incubator for man? In other words, is Eve's purpose that of a "receiver"? She receives sperm from the man and brings forth children? She receives food from the hunter and brings forth a meal? She receives money from the laborer and brings forth a home? Or does Eve's purpose have less to do with fulfilling stereotypes and more to do with being simply authentic and spiritual? Is her purpose the exact same as Adam's?
For we are what he has made us, created in Christ Jesus for good works, which God prepared beforehand to be our way of life. –Eph. 2:10, NRSV
Foundational Teachings
Gender does not define purpose –God's words and instructions to us in Genesis 1:28 defines our purpose.
The original purpose given to us by God in Gen. 1:28 is the same purpose Jesus gives to all his followers.
Adam & Eve's purpose is not to "bear children;" their purpose is to bear the fruit of the Holy Spirit.
Purpose is different from destiny; humanity shares a purpose, but destiny is individualized.
Dominion is not the ability to rule over people; it is the ability to personally rule over sin. Jesus gained dominion on earth through living a sinless life.
Jesus literally lived out Gen.1:28.
"God blessed them, and God said to them:
Be fruitful
multiply
fill the earth
subdue (conquer, overcome) it;
and have dominion." –Gen 1:28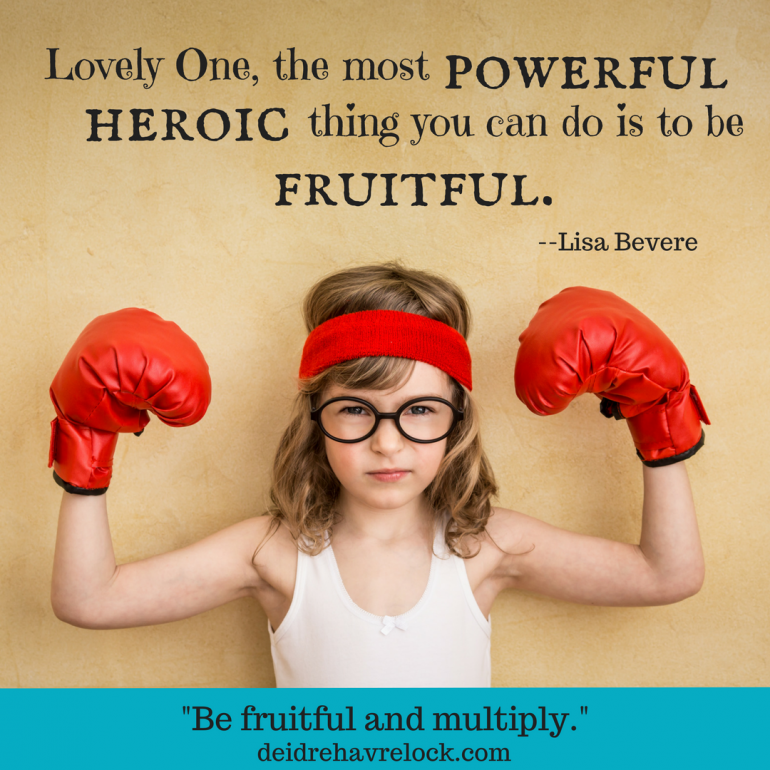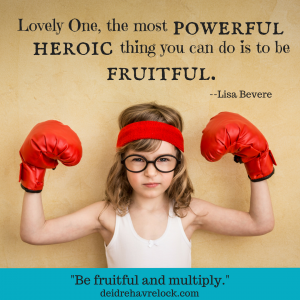 Gender does not define Adam's and Eve's purpose
The blessing found in Genesis 1:28 does not separate male from female. In other words, it does not relegate men to the tilling of the fields or the fighting of battles where they must work non-stop until they are exhausted (or quite possibly dead), any more than it consigns women to the work of birthing and raising children until they are exhausted (or quite possibly dead). "Be fruitful" is a directive given to both men and women. "Multiply" is also directed to both men and women, just as "fill the earth and subdue (conquer and overcome) it" is directed to both sexes.
Eve, therefore, is told by God to be extremely fruitful; she (like Adam) is to multiply herself and fill the earth, conquer and overcome the earth. But with what is Eve conquering the earth with… with children? Perhaps strong male children who can fight and conquer and win wars? Or perhaps these children are political and they can vote and through their vote they can control the government and establish some sort of physical dominion? But take notice that the above directive does not mention children at all. Adam and Eve are simply told to be fruitful, multiply and overcome the world. So where do we get the idea that children are our main purpose as well as possible pawns in establishing dominion?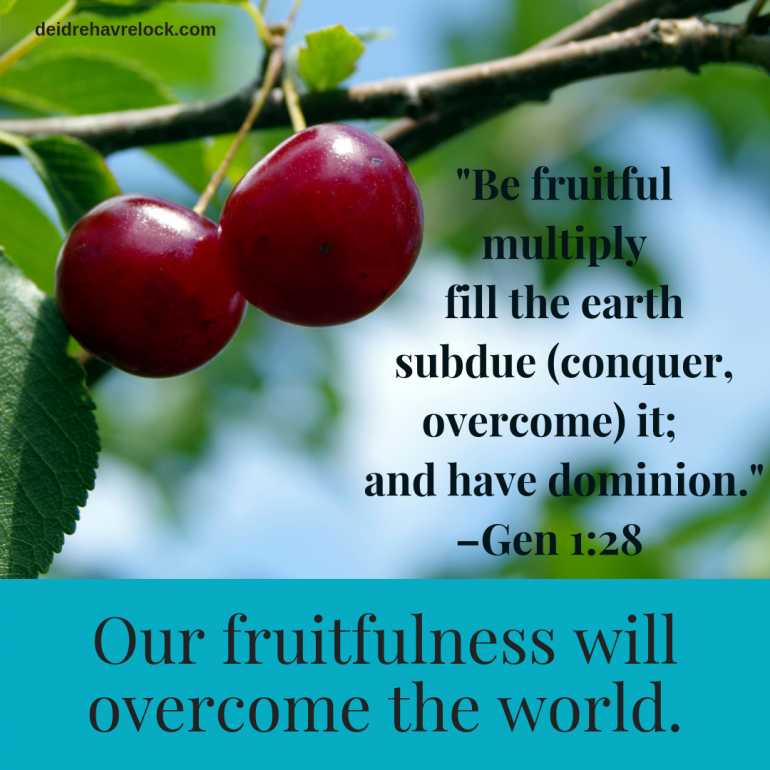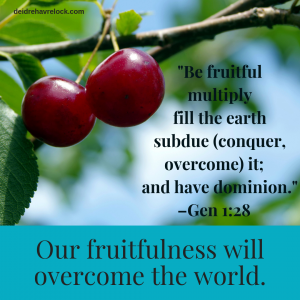 If we look at this directive with the eyes of our flesh then what we see is children and birth and quite possibly war with a "dominion" that comes from consolidated power and control. But really this directive from God has a far more glorious and spiritual significance. After all, our purpose should not be exhausting, bloodthirsty, power-seeking, nor life threatening. Our purpose should exemplify the kingdom of God. Be fruitful, multiply, fill the earth, subdue it; and have dominion should, therefore, be defined by the one person who truly understood it and lived it — Jesus.
So let's ask that all important question again… With what is Eve conquering the earth with? According to Jesus it's love. Eve is going to be fruitful in love, she is going to disciple others in love, she is going to fill the earth with love until the whole world is subdued and conquered by love.

The purpose given to us by God is the same purpose Jesus gives to all his followers
The calling that Adam and Eve have upon their lives happens to be the same calling given to us by Jesus. It is a blessing of unity and true spirituality (meaning, we are all united by one purpose and the spiritual fruit we will produce will last into eternity). Our purpose is not based upon fulfilling stereotypical gender roles, nor is it based upon controlling the masses through a physical "dominion." Rather, our purpose is based upon a supernatural birthing process. We are all called to give birth to the fruit of the Holy Spirit: faith, kindness, peace… etc. In this sense, it is as 1 Tim. 2:14 reveals:
Woman was deceived and became a transgressor. Yet she will be saved through childbearing. –1 Tim. 2:14–15
Jesus tells us to "Be fruitful":
The fruit of the Spirit is love, joy, peace, patience, kindness, generosity, faithfulness, gentleness, and self-control. There is no law against such things. —Gal. 5:22-23
I appointed you to go and bear fruit, fruit that will last, so that the Father will give you whatever you ask him in my name. –Jn. 15:16
You have died to the law through the body of Christ, so that you may belong to another, to him who has been raised from the dead in order that we may bear fruit for God. —Rom. 7:4
My Father is glorified by this, that you bear much fruit and become my disciples.   –Jn. 15:8
Jesus tells us to "Multiply":
Go therefore and make disciples of all nations, baptizing them in the name of the Father and of the Son and of the Holy Spirit, and teaching them to obey everything that I have commanded you. —Mt. 28:19-20
Jesus tells us to "Fill the earth":
Go into all the world and proclaim the good news to the whole creation. —Mk 16:15
Just as [the good news] is bearing fruit and growing in the whole world, so it has been bearing fruit among yourselves from the day you heard it and truly comprehended the grace of God. —Col. 1:5–6
Jesus tells us he has already "Subdued (conquered and overcome) the earth." We are to follow his lead:
In the world you face persecution. But take courage; I [Jesus] have conquered the world!" —Jn. 16:33
And this is the victory that conquers the world, our faith [faith is a fruit of the Holy Spirit]. Who is it that conquers the world but the one who believes that Jesus is the Son of God? —1 Jn. 5:4-5, additions mine
Do not be overcome by evil, but overcome evil with good. —Rom. 12:21
Jesus literally lived out Genesis 1:28. He was extremely fruitful displaying every fruit of the Spirit with perfection; Jesus multiplied himself through the creation of disciples who were then filled with the Holy Spirit; Jesus commenced the "filling of the earth" by his own act of entering into our world and proclaiming life to us. And Jesus has obtained dominion of the earth by living a sinless life. Therefore, the whole of Genesis 1:28 is found in Jesus. We are to follow his example.
Purpose is Different from "Destiny"
We all have the same purpose: to birth into the world: love, joy, peace, patience, kindness, generosity, faithfulness, gentleness, and self-control. This is man and woman's joint purpose. And this type of fruit lasts into eternity which means it is spiritual. Through this birthing of love, men and women will affect the world, both by making disciples and overcoming evil. However, destiny is quite different. Destiny is a specific task. Think of Esther or Mary or John the Baptist. They were each required to be faithful, gentle and kind, but in addition to this they were also given a profound destiny.
My destiny has to do with understanding the female image of God. This is something the Holy Spirit has been leading me toward for many, many years. You, however, may have a completely different destiny. We may not understand each other's destiny because destiny is so individualized. Yet, despite our different destinies, we all are united by purpose — created to birth love through both our words and deeds. In this way, as followers of Jesus, we can still recognize each other.
Dominion is not the ability to rule over people; it is the ability to personally rule over sin
Humankind's dominion was lost in the garden of Eden when both Adam and Eve submitted themselves to sin by disobeying God's established law. The fall of humankind came in two waves: first Eve fell through the means of being deceived, then Adam fell through direct disobedience. The fall of specifically Adam (his fall was the result of intentional disobedience, see TWO DIFFERENT TYPES OF SIN) transferred the rule of both the world and humanity to sin and death. Dominion stayed in the hands of sin and death until Jesus came upon the scene:
"But at Adam they transgressed the covenant." –Hosea 6:7
For just as by the one man's [Adam's] disobedience the many were made sinners, so by the one man's [Jesus'] obedience the many will be made righteous. But law came in, with the result that the trespass multiplied; but where sin increased, grace abounded all the more, so that, just as sin exercised dominion in death, so grace might also exercise dominion through justification leading to eternal life through Jesus Christ our Lord. –Rom. 5:19–21
For we do not have a high priest who is unable to sympathize with our weaknesses, but we have one who in every respect has been tested as we are, yet without sin. –Heb. 4:15
Jesus' obedience to God brought about a reversal of Adam's covenant with death. No longer were man and woman in a position of disobedience to God since through Jesus' perfect submission (which birthed: love, joy, peace, patience, kindness, generosity, faithfulness, gentleness, and self-control) both man and woman could be restored to their original position — they could start again. That's called grace. The covenant of death made through Adam's intentional disobedience was annulled. And now Jesus holds dominion. In other words, sin (in regards to humanity) is now placed under the feet of Jesus and as we stand with Jesus through grace, sin is once again under our feet:
Present yourselves to God as those who have been brought from death to life, and present your members to God as instruments of righteousness. For sin will have no dominion over you, since you are not under law but under grace. –Rom. 6:13–14