Not too long ago (2014) I had a very telling dream. The dream took place during a time in my life where I was calling out to the Spirit to tell me about Eve. In particular, I wanted to know why Eve (and women) in general have had to struggle with a lack of authority.
In my dream I was looking in the mirror admiring my hair. My hair was full and vibrant… it looked absolutely fabulous! I was filled with thankfulness over the glory of my gorgeous hair!! The verse in 1 Corinthians 11:15 never felt more true:
Judge for yourselves: is it proper for a woman to pray to God with her head unveiled? Does not nature itself teach you that if a man wears long hair, it is degrading to him, but if a woman has long hair, it is her glory? For her hair is given to her for a covering. –1 Cor. 11:13–15
Young's Literal Translation puts it this way:
And a woman, if she have long hair, a glory it is to her, because the hair instead of a covering hath been given to her. –1 Cor. 11:15
And the Darby Bible puts it like this:
But woman, if she have long hair, it is glory to her; for the long hair is given to her in lieu of a veil. –1 Cor. 11:15
However, as I ran my fingers through my seemingly fabulous locks, I noticed the opposite was in fact true. Underneath a thin layer of seemingly thick and glorious hair, lay my bald head completely shaved!! I became furious. I was indignant. Who had done this to me?! And Why?!
I immediately woke up. And as I lay there in bed, I was still mad as hell. How dare someone shave my glorious hair! I then remembered my prayer the night before regarding my question about the lost authority of Eve. I was now 1) confused and 2) excited.
I was confused because I now understood that hair and authority were linked in some weird way and I was simultaneously excited because I knew the Holy Spirit wanted to tell me about why they were linked. The rather confusing verse in 1 Corinthians 11:10 went through my mind:
Neither was man created for the sake of woman, but woman for the sake of man. For this reason a woman ought to have a symbol of authority on her head. –1 Cor. 11:9–10
I immediately ran to my Bible intending to do a study on the significance of hair and there I stumbled upon a very interesting verse that illuminated me in regards to the symbolic purpose of hair.
Before I tell you what that verse was, fast forward a bit to the release of Wonder Woman: Rise of the Warrior (2017) and take note of the movie's all important tag line — "THE FUTURE OF JUSTICE BEGINS WITH HER."  When this movie came out, I was thrilled. I grabbed my daughters and off we ran to the theater.
After the movie, my middle daughter (who is super intuitive) said "I really loved that movie except there was one thing I didn't understand."  Well, the one thing that made my daughter stop to think is included in the video clip below. It's the part where Diana makes the decision to cross "no man's land" — the land that no "man" has been able to cross. And the part that got my daughter wondering was the moment Diana stops to loosen her hair. My daughter was wondering if that moment was important and if it was …. why? I mean, why does Diana stop to let her long hair loose — surely, all that annoying hair is just going to fly in front of her eyes, obscuring her sight, right?
Well, thanks to my friend Bill Boyle, who wrote the book The visual Mindscape of the Screenplay I knew the image of Wonder Woman loosening her hair was not just a superficial, unimportant vain moment — it was there for a reason. It was a visual metaphor. Meaning, it carried heavy emotional significance. "But of what?" my daughter inquired.
Perhaps watch the clip below before we move on to the wonder of Wonder Woman's hair. This is the point in the movie where Diana makes the decision to step up for JUSTICE and to step out to HELP… this is the moment Wonder Woman steps into her divine PURPOSE and into her own AUTHORITY.
Notice how those loose locks are flowing and the people are following to fight! The reason this is such an emotional scene is not just because the female director planned it that way, it's also because the moment carries with it a very important spiritual truth — a truth that is meant for women to grasp in their spirit. And that truth has to do with… you got it… hair.
When Locks Flow Loose…
Now remember that verse I was telling you about. The one that illuminated me in regards to the symbolic purpose of hair. Well, it's found in the story of Jael.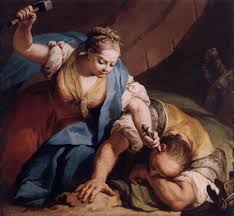 Do you remember Jael? She's the one who won the war for the Israelites when she drove a tent peg through Sisera's skull. There she is to the left, busy at work in a painting by Jacopo Amigoni.
Now Jael's story goes like this: the Judge Deborah (a woman in full authority) and her loyal general, Barak, unite and go after General Sisera and his Canaanite army. Barak completely destroys the army, but Sisera escapes. Sisera, according to Deborah (who is also a prophet), has a fate different from that of his army. Sisera's life lies in the hands of an unassuming, rather pleasant — yet bold — woman named Jael…
Jael came out to meet Sisera, and said to him, "Turn aside, my lord, turn aside to me; have no fear." So he turned aside to her into the tent, and she covered him with a rug. Then he said to her, "Please give me a little water to drink; for I am thirsty." So she opened a skin of milk and gave him a drink and covered him. He said to her, "Stand at the entrance of the tent, and if anybody comes and asks you, 'Is anyone here?' say, 'No.' "
But Jael wife of Heber took a tent peg, and took a hammer in her hand, and went softly to him and drove the peg into his temple, until it went down into the ground—he was lying fast asleep from weariness—and he died. Then, as Barak came in pursuit of Sisera, Jael went out to meet him, and said to him, "Come, and I will show you the man whom you are seeking." So he went into her tent; and there was Sisera lying dead, with the tent peg in his temple.
So on that day God subdued King Jabin of Canaan before the Israelites. Then the hand of the Israelites bore harder and harder on King Jabin of Canaan, until they destroyed King Jabin of Canaan.
Then Deborah and Barak son of Abinoam sang on that day, saying:
"When locks are long in Israel,
when the people offer themselves willingly—
bless the LORD!  –Jdg 4:18–5:2, bold added
The New Jerusalem Bible puts the verse this way…
That the warriors in Israel unbound their hair, that the people came forward with a will, bless Yahweh! –Jdg. 5:2
The New King James Version puts it this way…
"When leaders lead in Israel,
When the people willingly offer themselves,
Bless the LORD! –Jdg. 5:2
The Message says it this way…
When they let down their hair in Israel,
they let it blow wild in the wind.
The people volunteered with abandon,
bless GOD!  –Jdg. 5:2
However, what each of these versions miss is that the word translated as "leaders" and "warriors" happens to be in the FEMININE (parʿâh). Ultimately, Deborah and Barak's song is about women with flowing hair, or women in leadership:
When [the women] let down their hair in Israel,
they let it blow wild in the wind.
The people volunteered with abandon,
bless GOD!  –Jdg 5:2
"When [female] leaders lead in Israel,
When the people willingly offer themselves,
Bless the LORD! –Jdg. 5:2
"When [female] locks are long in Israel,
when the people offer themselves willingly—
bless the LORD!  –Jdg 4:21–5:2
That the [female] warriors in Israel unbound their hair, that the people came forward with a will, bless Yahweh! –Jdg. 5:2
So there, within the story of Jael, we have the story of Wonder Woman (who, by the way, was played by Gal Gadot who just happens to be Israeli). Pretty cool, right? You probably won't ever look at flowing hair the same way now — at least, I hope you won't.

A Woman's "Covering" is an Anointing
A "mantle" is a biblical covering (like a coat), usually made from hair. The covering represents authority, power, responsibility, as well as the office of a "prophet." In other words, a person occupies the position of "prophet" because of a particular anointing. If a woman prophecies without her "covering" (say she has her head completely shaved) then she would be disgraced because the authority of that prophet has been taken from her. And why would a prophet speak unless it is with authority given to her by God?
A mantle or covering symbolically represents the Holy Spirit setting a person (or persons) apart for a particular work. John the Baptist wore a mantle made out of camel's hair. Esau had so much red hair covering his body that he was said to have a "hairy mantel" (Gen. 25:25). Elijah, the prophet, had a powerful mantle and Joseph was envied and hated because of his beautiful long mantle:
Then Elijah took his mantle and rolled it up, and struck the water; the water was parted to the one side and to the other, until the two of them crossed on dry ground.  –2 Kings 2:8
Now Israel loved Joseph more than any other of his children, because he was the son of his old age; and he had made him a long robe with sleeves. But when his brothers saw that their father loved him more than all his brothers, they hated him, and could not speak peaceably to him.  –Gen. 37:3–4
Women have a god-given "mantle" or "covering" — the hair symbolizes this anointing that all women carry. This does not mean that women can't cut or shave their hair. It just means that hair represents a spiritual truth. It's as Paul explained…
We speak of these things in words not taught by human wisdom but taught by the Spirit, interpreting spiritual things to those who are spiritual. –1 Cor. 2:13
Women are anointed by God as the "helper." Eve was created for the sake of Adam because Adam needed help from someone who, like him, also represented God on earth. Because of woman's anointing as helper, she carries a symbol of authority — hair. If a woman was to lose her God-given authority, it is the same thing as being "shaved."
Women are the ones who will come to the "rescue." Women represent Eliezer (el-ezer) the "God of Help." We are the Wonder Women of the world. We are the Deborahs. We are the Jaels — perhaps we lie hidden and unassuming, but we are prepared and willing to fight (or preach, teach, prophecy, and lead) when called upon by God.
Women in the church today are much like how I saw myself in that dream — our hair/authority only appears to be intact right now, but the truth is an enemy has shaved our hair and we are not operating at full authority/strength. But don't worry because just as Samson once lost his hair (and his anointing) by letting his long locks become cut, woman's power and authority is coming back.
This is why the story of Sampson ends on such an ominous note: "But the hair of his head began to grow again after it had been shaved" (Jdg. 16:22). Ultimately, Sampson's last display of power ended up being his mightiest. And it will be the same for women.
That is the message to women today. Our authority is being restored, along with that so is woman's purpose and power. Women have a very large role to play in regards to defeating the enemy and representing God here on earth. And despite the setback of once having our hair shaved by the enemy… our hair is growing back!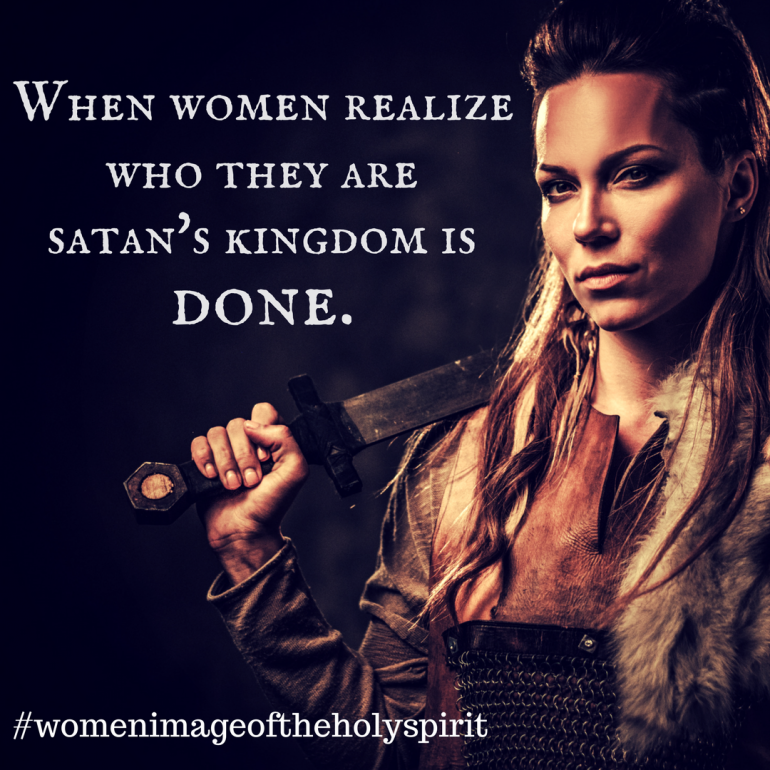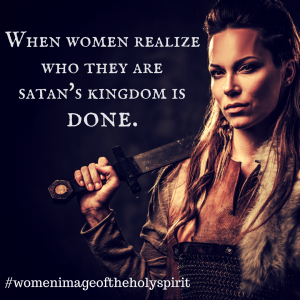 How did Eve save Adam? Read it here…