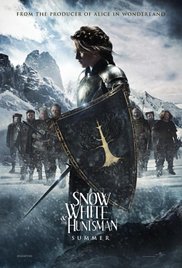 Like I said before, I love finding images of the Holy Spirit hidden within movies. In one of my favorite movies Snow White and the Huntsman, the Holy Spirit is center stage in the character of Snow White herself. Like the Holy Spirit, Snow White's battle is to transform the darkness into light and life.
In this movie we find that Snow White, the deceased King's daughter, has grown up imprisoned by her evil stepmother, Queen Ravenna, a powerful sorceress and the Dark Army's master who has taken over the kingdom, thrusting it into darkness and death. After Snow White escapes her captivity, Ravenna tells Eric, the Huntsman, that she will bring back his dead wife if he captures Snow White. The Queen wants Snow White because her magic mirror has told her that eating Snow White's pure heart will make her immortal. Snow White possesses a rare and powerful beauty—the kind that exists only in the heart and her mere existence compromises the Dark queen's power. A hunt is undertaken in order to destroy her.
Snow White escapes into the Dark Forest with the Huntsman after her. Once he captures her, he finds out that Raveena does not have the power to bring anyone back to life, so he switches sides and helps Snow White, escorting her through the Dark Forest toward Duke Hammond's castle.
While traveling through the wilderness of the dark forest, the Huntsman wonders who Snow White is and why the Queen wants her dead. When the Seven Dwarfs capture both the Huntsman and Snow White, one of them recognizes Snow and says, "Where she leads, I follow."  The Huntsman again asks why Snow White is so important to the Queen, and the dwarf answers, "You have eyes Huntsman but you cannot see. She is the one. I see an end to the darkness."
In the end, the Huntsman realizes that Snow White is the rightful ruling Queen and her power is one of life. In fact, the dwarf finally reveals Snow White's true identity to the Huntsman when he tells him, "She is life itself" and through her, the kingdom will be restored.
For the law of the Spirit of life in Christ Jesus has set you free from the law of sin and of death (Rom. 8:2).
http://youtu.be/Jh1fuecA2Pw?t=7s