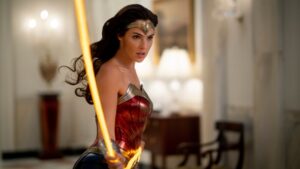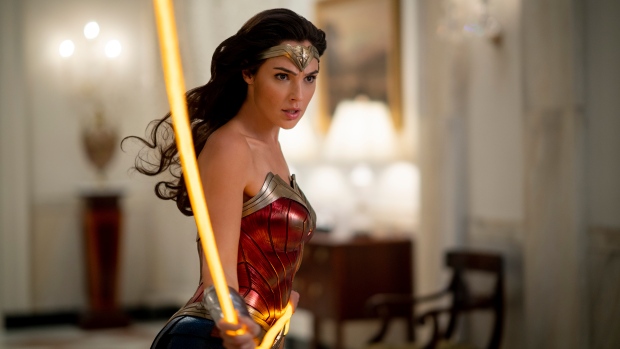 Happy New Year!  2020 is over and a new year is here. Of course, there's much to discuss about 2020, but right now I want to talk about WW84. Have you watched the new Wonder Woman movie yet? (Spoiler Alert!) I did. And I loved it! I absolutely love Wonder Woman because I find the film series to be a prophetic look into the destiny and identity of women. See my first post on Wonder Woman's hair here.
The second movie did not disappoint (from a prophetic viewpoint, that is). It gave us a good look into what we can expect in the coming years with the Spirit.
I will attempt to keep my spoilers to a minimum in case you haven't watched it yet.
The movie begins with Wonder Woman using her super powers to round up thieves while on-lookers watch in complete shock.  At the end of the scene, a lone reporter describes Wonder Woman as "a mysterious female savior."  And that is just what this series is about. A new female savior has entered the scene and she intends on doing her job even if it means renouncing her one personal desire (I won't tell you what that desire is).
Now, as Christians, we have been trained not to combine the words "savior" and "female" together. In fact, most of our Christian theology tells us those two words do not mix. Men, after all, are supposed to be the protectors of women. Men are the saviors. Men are the doers. But Wonder Woman flips that script, bringing this verse to light "the LORD has created a new thing on the earth: a woman encompasses a man" (Jer 31:22 NRSV). The word "encompass" meaning "surround" with the idea of "protecting." For greater clarity, perhaps we should read this verse in the NIV and Amplified Version:
I will create a new thing on earth.
A woman will guard a man. (NIV, Jer 31:22)
A female shall compass (woo, win, and protect) a man. (Amp. Jer 31:22)
Do you want to live, and move, and teach, and preach, and pray with a female savior protecting you? I certainly do. As the verse in Psalms says, "Steadfast love surrounds [encompasses] those who trust in the LORD." (Ps 32:10).
We are now living in the New Season of the Holy Spirit (our Mother who birthed in us new life). This season began 2000 years ago when Jesus died upon the cross releasing to us His amazing Spirit who would in turn work to save the world through those of us willing to work with Her. This season then sadly died out as the church decided they certainly didn't need any female saviors, or female preachers, or female evangelists. But that season is now being resurrected stronger than ever. This is a season where 1) women will prevail against their enemy 2) all will be called to seek an intimate friendship with the Spirit, and 3) this is the season of the reestablishment of Eve's authority through the Spirit of truth.
The power of sincere truth and deep love is coming in this new season. Watch Wonder Woman and you will see what I mean.
On a final note, last year I dreamed I was flying through the air without any plane — just me and my body flying through the clouds. It felt wonderful. I then called my dad to tell him I was a pilot and he said, "You're not exactly a pilot because you never got your pilot's license." And I said, "I know and yet here I am doing it!" Wonder Woman 1984 ends with Wonder Woman (for the most part) skipping that whole flaky invisible plane thing and instead she casts herself into the sky in a determined effort to fly. Well, we all know Wonder Woman can't fly, right? But in this movie something completely new happens. Wonder Woman flies. She takes to the air determined to do something new. And it works.
This is what the new season will be like. We will be raised to new heights, with new abilities, with a newfound freedom to do what we do best. And it will be done with love.