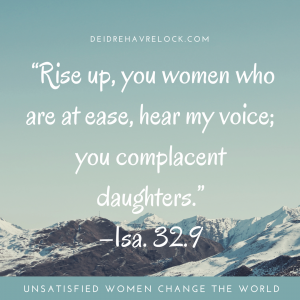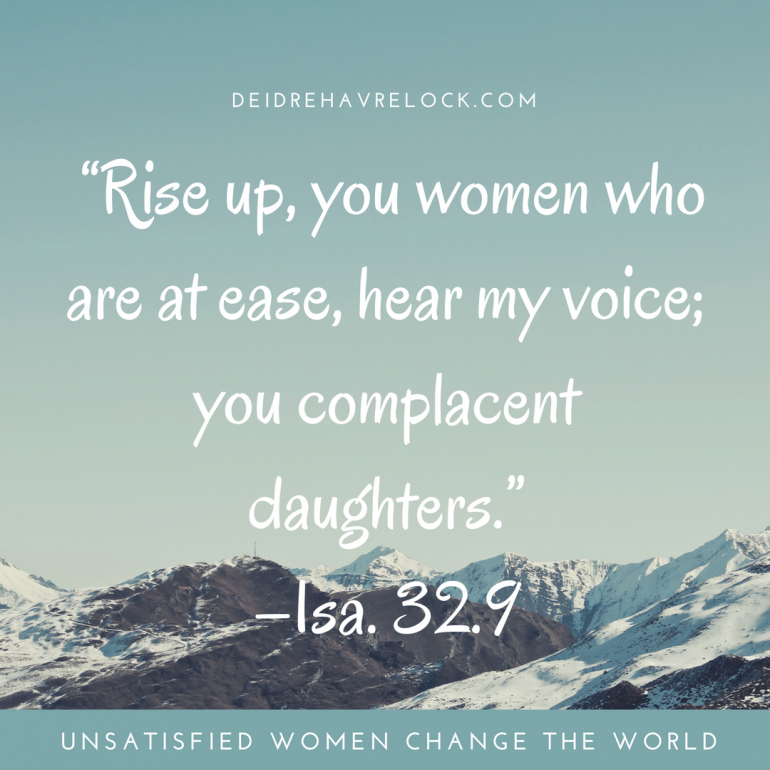 It was the year 2002; I was living in a small prairie town in Alberta, Canada attending a large community church. I was growing as a Christian during this time in my life, learning to pray and study my Bible. I had also been seeking a relationship with the Holy Spirit, praying things like, "Holy Spirit, you are God on earth. Help me and lead me. I want to know you."
However, a lack of enthusiasm toward God soon crept up on me. This happened mainly because after delivering my third baby I had stopped praying. I had been somewhat committed to prayer up to this point (praying alone or with a partner one or two times a week) and it was through my prayer life that God led me. Sometimes I would ask a question in prayer and the answer would come through a dream at night. Many times the answer came out of the Bible. I wasn't asking great theological questions. I was asking about things like faith, about sin, and about how I should pray for people. And the Holy Spirit answered. But because of the late nights with my baby I told the Holy Spirit I was taking a break and I would start up again in three months. Well, by the fourth month I still had not resumed my prayer life. In fact, instead of talking with the Holy Spirit and keeping the communication open, I was spending my time painting my house and reading decorating magazines. Then one night I was given a dream in which God showed me how evil creeps up on a person who lives in complacency.
In my dream I saw an ordinary woman (she wasn't me just someone like me). She had been given three lush roses. After having thanked God for her blessings, she then set out to live life. In the beginning she loved God, and she prayed and thanked Him often for sending His Son, but as the days continued (I saw these days go on like I was watching a movie) she forgot about continually seeking God. Soon Jesus became merely a belief she held to, an acquaintance she once knew—a magical baby in a fairy-tale. Ultimately, there were no more heartfelt conversations with God. Of course, there were prayers at mealtime and church on Sunday, but there was no fervent love, just a stale belief and the self-satisfying thought of, "I don't have to worry, God is still there watching over me."
Then one day (she was now old and she was depressed), she turned to God and asked why this had happened. I immediately knew what she meant—her life had seemingly been ambushed by a series of troubles that had actually started long ago but had gone unnoticed and, therefore, unrestrained. I woke with a start. One word echoed in my mind… complacency. As I got out of bed, I was very much aware that the Holy Spirit was telling me I was close to complacency. In fact, this strange word complacency was ringing in my ears. I had never contemplated complacency before; now it was all I could think about. Was I complacent? What exactly was complacency? And was it really as bad as the dream made it seem? Surely not, I thought. After all, the word complacency sounded rather harmless. I went to my Bible and looked up complacency in the concordance which directed me to Wisdom in 1 Proverbs:
Wisdom calls aloud outside; she raises her voice in the open squares. She cries out in the chief concourses, at the openings of the gates in the city she speaks her words: "How long, you simple ones, will you love simplicity? For scorners delight in their scorning, and fools hate knowledge. Turn at my rebuke; surely I will pour out my spirit on you; I will make my words known to you. Because I have called and you refused, I have stretched out my hand and no one regarded, because you disdained all my counsel, and would have none of my rebuke, I also will laugh at your calamity; I will mock when your terror comes, when your terror comes like a storm, and your destruction comes like a whirlwind, when distress and anguish come upon you. "Then they will call on me, but I will not answer; they will seek me diligently, but they will not find me. Because they hated knowledge and did not choose the fear of the Lord, they would have none of my counsel and despised my every rebuke. Therefore they shall eat the fruit of their own way, and be filled to the full with their own fancies. For the turning away of the simple will slay them, and the complacency of fools will destroy them; But whoever listens to me will dwell safely, And will be secure, without fear of evil." (Proverbs 1:21-33)
The complacency of fools will destroy them! Ack!  Evil and complacency were linked!  In fact the dictionary describes complacency as "self-satisfaction, accompanied by unawareness of actual danger or deficiencies." In other words, complacency takes us down a path God never intended us to go. Needless to say I was scared, not of God, but of ignoring the Father, the Son and the Spirit by putting them up on a pedestal merely to glance at once in a while, to the point that God's will and warnings were falling on soon-to-be-deaf ears, ears that were too busy with life to stop and listen and seek God for my own good. Take for example the terrifying yet compelling words of Isaiah:
O complacent ladies, rise up and hear my voice, overconfident women, give heed to my words . . . Tremble, you who are complacent!  Shudder, you who are overconfident!  (Isaiah 32:9, 11)
You see, a complacent person will think they're doing fine–they are satisfied. They have their heads on their shoulders; they're enjoying life, they're getting along fine. They firmly believe in God or maybe they've gone as far as to accept God's Son, Jesus. They probably go to church. But in actuality they are unaware of dangers about to befall them or of blessings God wants to give them—because they do not continually seek. They are satisfied with the status quo. Maybe they assume they already know God good enough or perhaps they assume they cannot know God on deep personal level. A complacent person's mind may also be focused on misplaced priorities—like mine was.  Simply put, a complacent person does not continually seek God.
My own complacency reminded me of James 3:17, "You do not have because you do not ask God. When you ask, you do not receive, because you ask with wrong motives, that you may spend what you get on your pleasures." I began to ask myself, Were there blessings I was missing?  When I did ask for something, was I asking with the wrong motive?  Were there things I was in need of, but not aware of?  Did danger lurk ahead? How was I to know? My decorating magazines came to mind. Of course, there's nothing wrong with a good decorating magazine, but was I slowly becoming complacent because I had begun to replace God with something more, well—seemingly fun? The words of Wisdom kept coming to my mind: "But whoever listens to me will dwell safely, and will be secure, without fear of evil" (Prov. 1:33).
I realized then that what I desperately needed was a close relationship with God, one which enabled me to hear, one in which the "spirit of wisdom" would be my guide—warning me and guiding me. James 1:5 came to mind: "If any of you lacks wisdom, let him ask of God, who gives to all liberally and without reproach, and it will be given to him." I realized that what I needed was wisdom! This way I would always be able to ask for what I needed, whether that be protection or blessing, opportunity or knowledge. However, knowing the answer and maintaining the answer in my life was two different things. What was this spirit of wisdom? How could I draw closer to God? I felt desperate. Now that I had come to realize that accepting who Jesus was, was only the beginning of the Christian life; that I would always need more of God: more insight, more compassion, more power, more blessing, more revelation, more of whatever it is God wanted to give, my desire to seek was even greater! I began praying every night instead of twice a week. I began seeking the Holy Spirit with renewed passion. And I was taken on a journey of discovery with the Spirit. One that changed the way I viewed God, bringing me to an understanding of Wisdom.
Ultimately, I realized that it was only the unsatisfied woman who pursues God to greater depths. I was determined to remain unsatisfied.