I read a lot. I like reading. I read thrillers. I read literary fiction and memoir. And I read theology books and Christian non-fiction. My favorite part of reading memoir or a good thriller (like Sharp Objects by Gillian Flynn) is character development. When an author delves deep into character, teasing me forward with persuasive  motivation, unconscious desires, problematic backgrounds, imperfections and weaknesses, all mixed with some element of extraordinary humanity then WOW! I really get caught up in the book.
I write a little myself. Because of my interest in writing, I was once asked by a fellow writer to read and comment on the first chapter of his book. In reading the book, I noticed my friend was quite a decent writer. His sentences were smooth, plot was intriguing, and the male characters were growing in depth with each page. However, I did notice one strange thing. The female characters were all the SAME.
While all the males had differing personalities, the females all liked to work in the kitchen — all of them. None of the women spoke, except to answer a male. None of them had personalities except that they were "happy wives" to the men in the book.
When I questioned the author about this strange lack of characterization in his female characters, he responded by saying the book wasn't about the women. It was only about the men. The women were merely on-lookers to the story of the men. We, therefore, lingered in the background. We revolved around the men. And since we didn't really matter to the plot, we could all be exactly the same. No harm done. Perhaps.
A lack of characterization is my one pet peeve when reading both fiction and Christian material. In fact, I think the scenario is far worse in Christian non-fiction books. I've read many Christian books over the years where authors attempt to define women in such extremely simplistic terms. So simplistic are these terms that I'm left with a flat, stereotypical, perfectly submissive, motherly woman. Terms I've come across over the years are woman as: "incubators" of men, "receptors," "mothers to men's children" "submissive wife to husband," and "man's inspiration."
The fact is, whenever we try to define women (and men) someone from the group always steps out of line and distorts our definition. And yes, I was one of those women who after reading Captivated, Unveiling the Mystery of a Woman's Soul was not in the least bit captivated. I did not feel like I grew up "consumed by a hunger for relationship." Was something wrong with me and my "femininity"? Was I in denial? Was relationship with a man really my core value and I was simply suppressing it? A memory popped up while I was reading Captivated. I remembered being at my girlfriend's house, bragging about how to break up with a boyfriend quickly (I never liked being in relationships because I found relationships "needy" and I enjoyed just hanging out). So to prove my point, I phoned my boyfriend and gushed about how much I liked him and gosh… we should have a baby! Well, he promptly dumped me. And I was happy with that… but then he went around telling people that I was a desperate woman looking to have a baby! So really the joke was on me. (I guess I deserved it.) Anyways, my  point is, why am I strangely divergent? And the answer is, I'm not because women are diverse. And what resonates with one woman may not resonate wholly or at all with another. (Sorry Captivated.)
I'm thinking about a recent twitter argument now. In it a man said because of feminism he was no longer sure if he should open a door for a woman or let it shut in her face. To which many people responded: "Let it shut in her face!" "Keep opening doors because it's polite." "I'm a woman and I love doors opened for me by gentlemen." "I'm a woman, let me open my own door." "Whoever gets to the door first should open it." "I opened a door for a woman and she said, no thank you!" "I opened a door for a man and he said, he would never let a woman open a door for him!"
Well, the argument went on for seemingly ever…ugh! But there was one wonderful reply (and I tried to find it on my feed but I sadly cannot so I will attempt to get to the heart of the response even if the words are wrong.) One man said, "If you like opening doors for women then go ahead and do what you enjoy… but remember women are unique. Each will respond differently to your action and that's okay."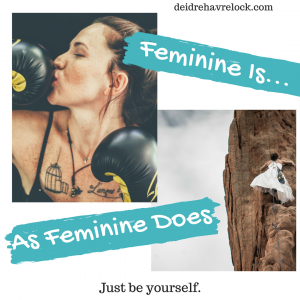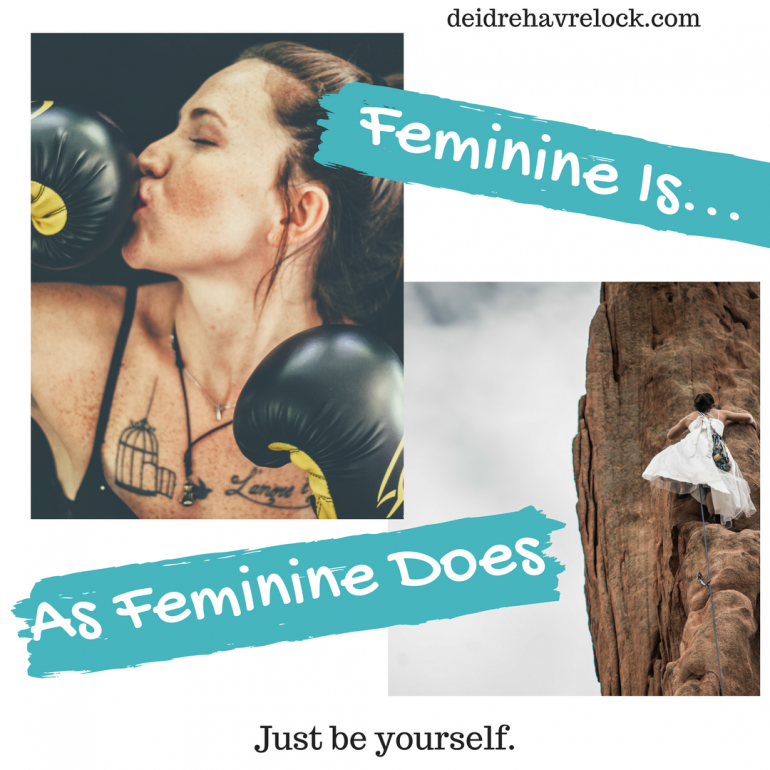 My point, obviously, is that women are all different, and even though you may want them all to line up neat and orderly, responding in a fem-bot… I mean "prearranged feminine way"… well, they won't always meet expectation. I believe women are experts at being feminine. And ultimately, feminine is as feminine does. We all do femininity differently. God made us like that. And that's okay. I'm sure as men, you all do your masculinity slightly differently too.
[tweetshare tweet="I believe women are experts at being feminine. And ultimately, feminine is as feminine does. We all do femininity differently." username="deidrehavrelock"]
But Who Best Represents the Ideal Woman?
I recently read an interesting theological work in Sophiology (the study of Wisdom/Sophia in the Bible) by István Cselényi (this is not a review of the book). One of the thought-provoking themes he explored was the idea that Mary (the mother of Jesus) best represented Wisdom/Sophia —
"The Holy Spirit is the original source of femininity and Sophia-Mary is Her perfect reflection. She also manifests Herself in the Church, in every mother and every woman." ( The Maternal Face of God? Explorations in Catholic Sophiology, 184.)
In other words, if the Holy Spirit is the original source of femininity then Mary, Jesus' mother, is the perfect reflection of her. The problem with this idea is that Mary is just one woman. Mary is not able to represent ALL aspects of femininity. Mary is known as being a virgin, faithful — a mother. Which is all very wonderful. But the Spirit is even more than this.
For some odd reason we want women to fit neatly into a box of perfect femininity. And we search high and low for that one perfect woman who is doing femininity just right… such as Mary… or that pretty, well-spoken, polite, perfectly polished woman you met at the church picnic the other day who seemed absolutely ideal to you. But I've realized, as I've gotten to know the Holy Spirit, that She really is represented as István Cselényi says "in every mother and every woman." However, that representation is not secondary to Mary. ALL faithful women in the Bible provide us with essential, crucial aspects (revelations) regarding the person of the Spirit.
So if you want to get to know the Spirit… yes, look to Mary and her faithful motherhood but look also to the Judge Deborah and her authority, look to Jael as a warrior and to Sarah who was barren and even to Leah who was overlooked and unloved. You cannot get a complete picture of the Holy Spirit by just looking at one woman, no matter how perfect she seems to you. And just when you attempt to define the Spirit's femininity — she will reveal to you another vital mystery, the face of a woman you may never have met before but desperately needed to encounter. That's the beauty of relationship. That's the beauty of being a fully formed, multi-faceted person.