Well, I guess summer is pretty much over. And I know I should have written a summer reading post a loooong time ago (like during summer) but it's been a weird year (to say the least) so you are getting my summer reading post looooong after the book has been read. So here goes, I somewhat recently read Sarah Bessey's new book Miracles and Other Reasonable Things. And I have to say, it is fabulous. Absolutely fabulous!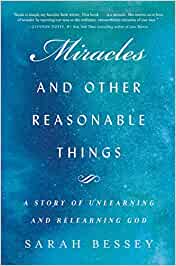 Why is it fabulous? Well it's  fabulous because she quotes Doctor Who. And if that's not enough for you then it's fabulous because she goes to Prince Edward Island to visit Green Gables. (Green Gables is the fictional home of Anne Shirley… you know, from the book Anne of Green Gables which I never read but I fell in love with the made for T.V. movie and also found my way to Prince Edward Island in order to surround myself with all things Anne… good memories!) But the book is also fabulous because she — a Canadian Christian woman — gets invited to visit the Pope and she decides NOT to go (hell no, I wouldn't go either, Sarah! Not until women can become priests, bishops and Popes!)… but then she changes her mind and she goes anyway because well… it is ROME, after all. In other words, Sarah navigates (like a true Pentecostal) all the hefty emotions that come with such a strange and unlikely invitation. (FYI, after reading the book I for SURE would go visit the Pope but you will have to read the book in order to find out why.) However, the main reason I love this book is because it's written by a woman who grew up Pentecostal and has — like many of us — gone through deconstruction and has come out of that dark and lonely period with her theology in a shambles and yet she keeps on believing in Jesus and his miracles anyways. So amen to that.
Before deconstruction hit the church (let's call this time period BDC) I was a fan of Christian books written by lovely (primarily stay-at-home) women who were looking to raise the faith of other women. These books were fun, and filled with encouraging stories of faith from a woman's perspective. These women were miracle-believing, prayer-warrior mothers who believed for the impossible all while keeping their house tidy and attending church every Sunday with good Christian children in tow. And Sarah is the continuation of this brand with one enormous difference… she's the new woman. The one who has been through BDC. The one who doesn't deny that writing books is an actual job, the one who dares to speak about the need and the desire to receive a paycheck in order to pay the bills (and buy red lipstick), the one who isn't afraid to question everything (knowing faith often grows this way), the one who doesn't always make it to church — no harm done, the one who lives in pain and isn't afraid that naming her pain will cause her to lose faith. She is the absolute new woman, the one who both wants and values a God who fulfills not only the role of Father but also that of Mother. Sarah Bessey is the new Christian woman who dares to sing at the top of her lungs "She's got the whole world in her hands!" And that is something I think is fabulous. Sarah Bessey is a cold glass of fresh new wine!
Most of us identify God in parental terms as a father — and that is deeply meaningful to me as well…. But just as my own father gave me a glimpse of God's good character, so did my mother. She could not be erased from the goodness of God's expression. Her energy, her nurture, her fierce mama bear protectiveness, her joy and laughter, the ministry of her hands in my hair smoothing away the stress…. I need the fullness of the expression of God, not a lopsided caricature of either. And in times of suffering or loss or exhaustion, it has turned out that I needed a mother. — Sarah Bessey
I need a Mother too, Sarah. And frankly, so does the whole world right now. So here's a toast to the new world we live in… one where the divine Father rules alongside the equally divine Mother. Cheers all!
-Deidre